Rent or Buy Now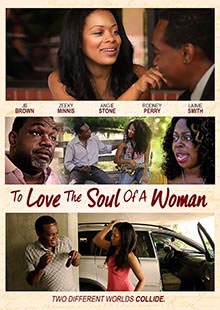 To Love the Soul of a Woman
Own It July 11, 2017
Genre: Drama
Runtime: 120 Minutes
UPC: MAV-5532, 824355553222
Storyline
An abusive woman who stops at nothing short of murder to get her way. Monee Kinyard emasculates, humiliates and physically abuses her ex-military fiancee', Earnest Anderson, who does all he can to appease her. She torments his friends, terrorizes her own children and plots his horrific death, but as fate would have it she ultimately faces the biggest revelation of her life when Earnest's best friend, Thomas Peterson, unveils his own wrath of fury.
Produced By
Jerome "JB" Brown
Directed By
Jerome JB Brown
Cast
Zeeky Minnis, JB Brown, Lainie Smith
About the Crew
Jerome 'JB' Brown is a writer and producer who has taught college and high school theatre. He is an author 'To Love The Soul of A Black Woman' & 'Think Not; Thought Not'. He has written 16 scripts and Produced 6 films and 4 plays. He has worked with Angie Stone, Rodney Perry, T.Y Martin, Tommy Ford, Sherman Hemsley, Chuck Norris, Clarence Guilyard, Charmin Lee and Dave Tolliver.
Rodney Perry is a writer and actor known for many films 'Johnson Family Vacation' (2004), 'Madea's Big Happy Family' (2011), 'Mr. Right' (2015), 'Conflict of Interest' (2017) and many more.
Angie Stone is a singer/songwriter and actress known for her work on 'Girlfriends' (2000), 'Soundtrack for a Revolution' (2009) 'Shady Sisters: The Color of Love', 'Scary Movie 5' (2013), and 'Ride Along' (2014).
Zeeky Minnis is an actress, known for 'Church Girl' (2011), 'Identity Thief' (2013), 'Loud' (2014) and 'Push' (2016).
Gallery