Rent or Buy Now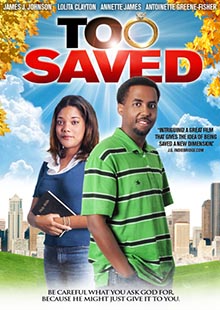 Too Saved
Own It February 17, 2009
Genre: Comedy
Runtime: 78 Minutes
UPC: MAV-5301, 824355530124
Storyline
Lisa has prayed for years that God would save her boyfriend Bobby, but when he finally sees the light it's much more than Lisa bargained for. Is Bobby 'Too Saved' to hold onto his relationship with Lisa?
Directed By
Shuaib Mitchell
Cast
Lolita Clayton, James, "J.J.", Johnson, Annette James, Caroline Pleasant
About the Crew
Won 2nd Place for BEST FILM at the 1rst Annual KingdomWood Christian Film Festival
Too Saved was awarded the prestigious Dove 'FAMILY- APPROVED' Seal by the Dove Foundation
Received a 4-star rating from The Dove Foundation.
Directed by award winning independent filmmaker Shuaib Mitchell (Larry Neal Writer's Award, Maryland State Individual Artist Award)
Has screened at film festivals around the world including the Pan African Film Festival, Indie Can Film Festival, and the Urban World/Vibe Film Festival
Nominated for BEST RELIGIOUS FEATURE FILM at the San Diego Black Film Festival
Sowande Tichawonna won Outstanding Emerging Artist at the Washington Mayor's Arts Awards
'**** Intriguing! Too Saved is a great film that gives the idea of being saved a new dimension' (James Gabriel, IndieBridge.com)
'This is a great movie! Keeps it real by dealing with real issues, and does an EXCELLENT job of causing the viewers to examine themselves. Wow!... A film that ministers to the believing viewer that isn't the 'Passion of the Christ', yet conveys Christ's passion nonetheless in a unique way... Continue to operate with excellence before an audience of One, and He will take you places... because you glorify Him. If He be lifted up..'. (Viewer Comment)
Promoted on Maverick's corporate Myspace and Facebook pages
Gallery
Gallery Images are Coming Soon.