Rent or Buy Now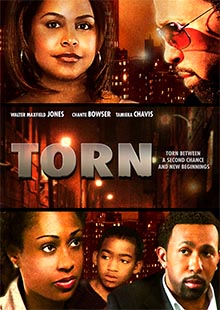 Torn
Own It August 06, 2013
Genre: Drama
Runtime: 96 Minutes
UPC: MAV-5401, 824355540123
Storyline
Delroy discovers his wife is having an affair with their son's basketball coach. In walks Jasmine, a sexy woman with everything he desires. What will he decide now that he finds himself torn between pursuing a relationship with Jasmine or mending his marriage?
Directed By
Frank E. Jackson Jr.
Cast
Walter Maxfield Jones, Chante Bowser, Tamieka Chavis, Wil "Onix" Lash
About the Crew
From director Frank E. Jackson Jr. that brought you 'Dead Money' and 'Lorenzo & Monica'.
Starring Will 'Onix' Lash from VH1's reality TV show 'I Love New York'.