Rent or Buy Now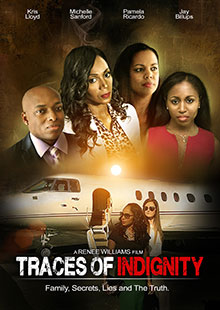 Traces of Indignity
Own It December 04, 2018
Genre: Thriller, Drama
Runtime: 77 Minutes
UPC: MAV-5568, 824355556827
Storyline
Dr. Augusta Weber has traveled the world over promoting her books, DVD's and selling out public speaking events. She is a retired College Professor who is greatly admired by all. Although Dr. Weber is an advocate for being straight-forward, open and honest, she is protecting a deep, dark secret that has plagued her for years. An aggressive journalist, Ruby, is determined to denounce Dr. Weber's character by uncovering the truth and scoring the next big story.
Produced By
Renee Williams, Darius Williams
Directed By
Renee Williams
Cast
Kris Lloyd, Michelle Sanford, Jessica Osborn, Pamela Ricardo, D.K Grissett, Mark A. Story
About the Crew
Renee Williams is a writer, director, and producer known for Traces of Indignity (2018), Pretty for a Dark Skinned Girl (2017) and Carolyn Somebody (2012).
Kris Lloyd is known for her work on Traces of Indignity (2018), Normal Abnormalities and Cup-A-Chicken (2016).
Pamela Ricardo has worked behind the scenes and in front of the camera and has had roles on BET, TvOne, Investigation Discovery, and Oxygen. Her latest credits include BET's, 'THE QUAD ' and The CW's, 'THE VAMPIRE DIARIES'.
Gallery