Rent or Buy Now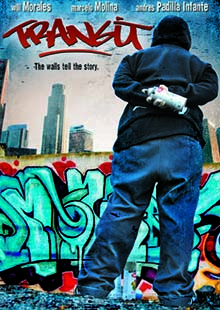 Transit
Own It April 19, 2005
Genre: Drama
Runtime: 74 Minutes
UPC: MAV-5118, 824355511826
Storyline
Richie Jimenez a.k.a. 'Mozart' is a talented graffiti artist struggling to rise above the gritty and dismal streets of South Central Los Angeles, where gangs run rampant and an increasing number of taggers are trading in their spray cans for guns. After his brother, a famed graffiti writer, loses his life to the hands of a vigilante gunman, Mozart vows to clean up his act. That lasts until he reunites with his best fried 'Shifty', a notorious wannabe tag banner, who drags him back into the graffiti circuit to help settle a beef with a rival tagging crew. It's not long before his friends' crazy schemes lead Mozart into all sorts of trouble. Finding his life dangerously spiraling out of control, Mozart knows he should walk away. Only this time it's personal.
Directed By
Terrence Williams
Cast
Will Morales, Marcelo, Molina, Andres Padilla Infante, Carrie R. Wallace, Bron Theron, Ben Stovall
About the Crew
This gritty urban action film is one like you have never seen before. With captivating artwork that sells, this film tells a true tale of life in the city streets of LA. Tagging is a way of life and sometime the only way a person can acommunciate their creative talent instead of finding a life of guns and death. In the film, the walls tell the story.