Rent or Buy Now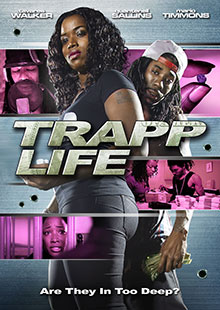 Trapp Life
Own It July 27, 2021
Genre: Drama, Thriller
Runtime: 85 Minutes
UPC: MAV-5760, 824355576023
Storyline
Lucci and Baby Mama are knee-deep in the trap life. Both have dreams of trading the trap game for the rap game, but that's easier said than done. When Baby Mama gets locked up, Lucci is pulled deeper into the fast life of money, power, and chicks.
Produced By
Tavares Walker
Directed By
Chad Hendricks
Cast
Tavares Walker, Quantenell Sallins, Mario Timmons
About the Crew
Chad Hendricks is a writer and director known for Kracker Jack'd (2003), Block Burner (2012), Trapp Life (2013). He also wrote and starred in Me and Mrs. Jones (2018).
Tavares Walker is known for writing Trapp Life (2013) and Boss Moves (2021). He starred as "Lucci Kruz" in Trapp Life and "Lue Kane" in Boss Moves.
Quantenell Walker is known for playing "Baby Mama" in Trapp Life (2013), along with producing Trapp Life (2013) and Boss Moves (2021).