Rent or Buy Now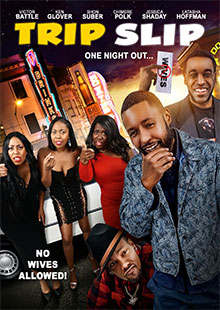 Trip Slip
Own It July 13, 2021
Genre: Comedy
Runtime: 85 Minutes
UPC: MAV-5737, 824355573725
Storyline
Three homeboys plead with their wives to let them have one night out to celebrate what they consider an achievement - the end of paying child support.
Produced By
Crystal Ellis
Directed By
Crystal Ellis
Cast
Victor Battle, Ken Glover, Shon Suber, Chimere Polk, Jessica Shaday, Latasha "Extraordinary Truth" Hoffman
About the Crew
Crystal Ellis is a producer and director known for The Ides of March (2011), Just Our Luck (2016), Grub Love (2018), and The Flavor (2018).
Victor Battle is an actor known for Nerd Boy (2008), Going Postal in LA (2015), Just Our Luck (2016), and Dead End (2019).
Latasha "Extraordinary Truth" is an actress known for Death by Association (2009), F.L.I.R.T: Fine Ladies Is Runnin' Things (2009), and Trip Slip (2021).
Gallery