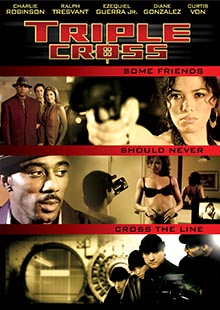 Triple Cross (aka Bandidos)
Own It December 13, 2005
Genre: Action
Runtime: 89 Minutes
UPC: MAV-5158, 824355515824
Storyline
Crafty club owner Alex, played by well known actor Charlie Robinson (Night Court, Antwone Fisher, Set It Off), and his right hand man Sonny, played by Ralph Tresvant (Barbershop Blues, lead singer for the recording group New Edition) team up with a trio of Hispanic thugs, the Bandidos, to carry out their gangster activities using Alex's club as a cover. But when Bandido's leader Eduardo falls in love with a woman involved in their last robbery, their alliance is soon jeopardize. Realizing that Eduardo isn't taking heed to his warnings, Alex decides to get rid of the Bandidos. Feeling betrayed, the Bandidos decide to force a showdown on Alex and Sonny. Who will prevail in the final confrontation?
Directed By
Stephen Allen
Cast
Charlie Robinson, Ralph Tresvant, Diane Gonzalez, Ezequiel Guerra Jr., Pablo Bracho, Curtis Von, Nellie Gonzalez, Cory Hart, Elvia Ramirez
Gallery
Gallery Images are Coming Soon.