Rent or Buy Now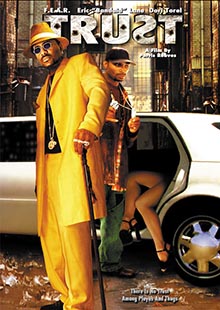 Trust
Own It September 16, 2003
Genre: Action
Runtime: 77 Minutes
UPC: DVD: MAV-5036, DVD: 824355503623
Storyline
From the darkened shadows of the inner city comes a powerful tale of love and betrayal as three unforgettable souls dare to challenge life\'s ultimate game of who to \"Trust.\"
The story unfolds with the beautiful Isis who meets Deandre, a street raised genius. They encounter a new and very special relationship together. But Deandre knows he can't and should not trust anyone, even Isis. Deandre's street attitude keeps him strong and suspicious of everyone, even his old friend Winston. Deandre, consequently discovers a series of shocking truths about his friend Winston who has more than a longtime friendship in common with him. This leads to an emotional boiling point exposing a burning fuse, ready to ignite. Suddenly their simple lives are saturated with turbulence, as Isis unwittingly becomes a pawn in a deadly game of cat and mouse. Winston finds himself face to face with anger powerful enough to destroy him. And Deandre\'s relentless cycle of madness makes him unable to escape F.E.A.R. and finally \"Trust\" someone.
William Pierce and Parris Reaves bring to life a dangerous intersection of pain and destruction into a realm of movie masterpiece … Trust is their story.
Directed By
A Parris Reaves Film
Cast
F.E.A.R., Eric Lane, Dori Torel
About the Crew
Great Urban film by talented independent director Parris Reaves of \"When Thugs Cry.\" Starring rap artist F.E.A.R.
Gallery
Gallery Images are Coming Soon.