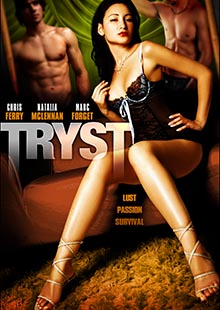 Tryst
Own It September 11, 2007
Genre: Erotic, Thriller
Runtime: 83 Minutes
UPC: MAV-5226, 824355522624
Storyline
A sexually-charged thriller about Franklin and Bridget, a married couple in trouble. An escape to a secluded mountaintop chalet goes fatally wrong after the snowbound couple realize they are not alone. The charming French-speaking caretaker of their rented vacation house and Bridget share an immediate sexual attraction, which inflames an insecure Franklin, and the friction sets in. Ultimately, Franklin must decide how far he is willing to go to save his marriage... and himself.
Cast
Natalia McLennan, Chris Ferry, Marc Forget
About the Crew
Starring, in her first movie debut, New York's number One highest paid escort. Featured in top mens magazines and New York Magazine.
An Erotic thriller set in the style 'Unfaithful'.