Rent or Buy Now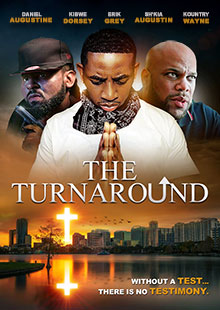 The Turnaround
Own It August 11, 2020
Genre: Thriller
Runtime: 86 Minutes
UPC: MAV-5661, 824355566123
Storyline
The Turnaround is a story about a young guy named Marquise whose faith is challenged by the loss of both of his parents at an early age. He begins to drift towards street crime and away from his writing ambitions. A tragic event places him in a precarious position wherein he must choose between good and evil.
Produced By
James Hunter, Sean Nelson, Emelyn Stuart
Directed By
James Hunter & Amanda Marquis
Cast
Sh'Kia Augustin, Daniel Augustin, Erik Grey
About the Crew
James C. Hunter is a producer, writer, and director known for The Breaking Point (2014), Her Little Secret (2017), The Flea (2019), and The Probe (2019).
Daniel Augustin is most notably known for his role on David Makes Man (2019), Wu-Tang: An American Saga (2019), The Flea (2019), and Critical Thinking (2020).
Kibwe Dorsey is an actor known for Prime of Your Life (2010), Grace of the Father (2015), An Encounter with the Messiah (2015), and The Green Grass (2020).
Sh'Kia Augustin is an actress and producer, known for Black Lightning (2018), Genius (2017), The Season (2018), and Cake: The Series (2018).