Rent or Buy Now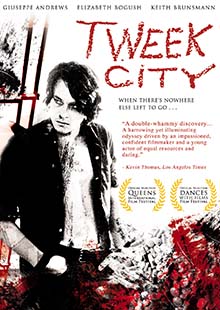 Tweek City
Own It January 02, 2007
Genre: Drama
Runtime: 86 Minutes
UPC: MAV-5212, 824355521221
Storyline
Haunted by nightmares and afraid to sleep, Bill, (Giuseppe Andrews -Cabin Fever, Detroit Rock City, American History X), a young half-Latino plunges into a speed-induced, late-night journey through the streets of San Francisco's Mission District. The night keeps going downhill for sleep-deprived Bill, now completely unhinged after a humiliating one-night stand and the death of his best friend from a reckless stage dive accident. Ultimately, in a hallucinogenic state, he travels down to Los Angeles to crash his high school sweetheart's wedding, and makes a desperate attempt to reconnect with his lost love.
Directed By
Eric G. Johnson
Cast
Giuseppe Andrews, Keith Brunsmann, Eva Fisher, Demetruis Navarro, Luis Saguar, Elizabeth Bogush
About the Crew
Official Selection -2005 Queens International Film Festival
Official Selection -2005 DancesWithFilms
'Andrews gives body and soul to the role in ways that recall the daring of Al Pacino in 'Panic in Needle Park.', -Robert Koehler, Variety
'. . . a harrowing yet illuminating odyssey driven by an impassioned, confident filmmaker and a young actor of equal resources and daring.', - Kevin Thomas, Los Angeles Times
Gallery
Gallery Images are Coming Soon.