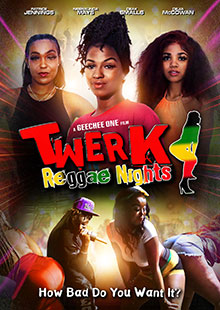 Twerk: Reggae Nights
Own It October 10, 2023
Genre: Drama
Runtime: 101 Minutes
UPC: MAV-6006, 824355600629
Storyline
Hard-working, single mother, Iesha, learns that one of the most popular reggae artists, Domino, is holding an audition in her city for dancers in his next music video. The competition is fierce, and some of the ladies will do anything to get the job.
Produced By
Felicia Rivers, Isaac Hilton Jr.
Directed By
Felicia Rivers
Cast
Patrice Jennings, Neshaunda Mays, Deak Smalls, Dejia McCowan
About the Crew
Felicia Rivers is a director, writer, and producer known for Trap Flix Party (2021), Treasure Box (2021), Suga Babies (2021), and Lilith's Ball: 7 Deadly sins (2022).
Patrice Jennings is an actress, known for Treasure Box (2020), Sinful (2022), and The Color of Green.