Rent or Buy Now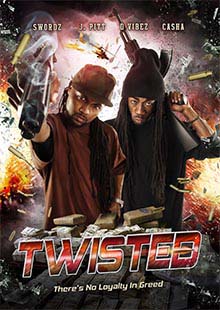 Twisted
Own It October 13, 2015
Genre: Action
Runtime: 79 Minutes
UPC: MAV-5498, 824355549829
Storyline
Home boys Jon Jon (Swordz) and Reggie (J Pitt ) are two small time street hustlers looking to make a come up through a Jamaican connection, eventually leading to make a lot of money. Events unfold only to find out there is no loyalty in greed.
Directed By
Adolfo Latorre
Cast
Swordz, D Vibez, Casha, J Pitt
About the Crew
Swordz, known for his raw, gritty lyrics and high-energy shows, he hasbuilt a reputation as one of the best live performers on the underground circuit.
"Substance over Flash" is his mantra, and he holds true to it.
Gallery