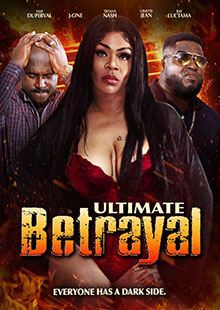 Ultimate Betrayal
Own It October 17, 2023
Genre: Thriller
Runtime: 122 Minutes
UPC: MAV-6003, 824355600322
Storyline
Jerry, a recently unemployed accountant, and his wife Stephanie face financial struggles after Jerry loses his job. They invite Jerry's best friend and mentor, Lionel, a music producer, to stay with them. Lionel turns out to be manipulative and begins a rivalry between Jerry and his friend Shawn. Lionel also tries to seduce Stephanie by exploiting her financial vulnerability. This betrayal leads to a chain of events that ends tragically, revealing a dark side of Jerry that he never knew existed.
Produced By
Johnny Pierre
Cast
J-One. Sam Duperval, Tiffany Nash, Ginette Jean, Ray Luctama
About the Crew
Johnny Pierre is an actor and producer known for Never Get Married (2009), Mysfits (2011), and Cuzzo (2022).
Peaty James is a director known for Never Get Married (2009), The Divine Light (2012), and Cuzzo (2022).