Rent or Buy Now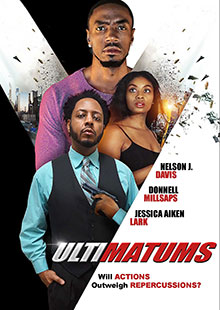 Ultimatums
Own It November 17, 2020
Genre: Thriller
Runtime: 84 Minutes
UPC: MAV-5659, 824355565928
Storyline
Roman visits recently engaged Luke and his sexually frustrated fiancĂ© Mya. Mya is forced into an internal battle between being faithful to her fiancé and sexual tension between their new house guest who has an ulterior motive of his own.
Produced By
Nelson J. Davis
Directed By
Nelson J. Davis
Cast
Nelson J. Davis, Donnell Millsaps, Jessica Aiken Lark
About the Crew
Nelson J. Davis is an actor/director/writer known for But Deliver us from Evil (2017), Beautifully Insecure (2017), Unwitting Deceit (2020), and Protégé (2020).
Jessica Aiken Lark is an actress known for War Room (2015), Misconstrued (2016), Sweet Mahogany (2020), and Unwitting Deceit (22020).
Donnell Mishaps is an actor known for Good Friday (2014), Malicious Intent (2018), and Lovers Lane (2016-2019).
Gallery