Rent or Buy Now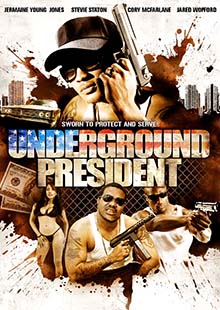 Underground President
Own It August 26, 2008
Genre: Action
Runtime: 93 Minutes
UPC: MAV-5285, 824355528527
Storyline
Blow is searching for his identity and a connection to his past amidst the backdrop of the most vicious gang war that Florida has ever seen. Intrigue, deception, and a secret that threatens to unravel all Blow has ever known, drive the forces that will decide who will become the next Underground President.
Cast
Jemaine "Young" Jones, Steve Staton, Cory McFarlane, Jared Wofford, Shelah-Marie Rhoulach, Royce Jennings, Rich Dye
About the Crew
Winner of the Audience Choice award at the Buffalo Niagara Film Festival.
Screened at the Indie Can Film Festival and the Palm Beach International Film Festival.
The Underground President trailer has 4.5 stars on You Tube and over 3,000 views.
Directed by award winning director Tim Warren.
Promoted on Myspace and Facebook.