Rent or Buy Now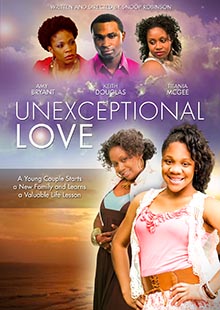 Unexceptional Love
Own It March 05, 2013
Genre: Inspirational, Drama
Runtime: 88 Minutes
UPC: MAV-5410, 824355541021
Storyline
Demetria and Shaun are looking to expand their family with a precious gift from God. Demetria faces complications in child birth that leaves her child imperfect by her standards. Demetria must find it in herself to love unexceptionally.
Directed By
Snoop Robinson
Cast
Keith Douglas, Titania McGee, Amy Cannon Bryant, Jordyn Brown-Robinson, Latesha Johnson, Snoop Robinson, Crystal King, Autumn Cannon, D Ellis, Dave Hollister, Dr. Frederick D. Haynes, III, Tony Grant
About the Crew
Dave Hollister - Former member of the R&B group Blackstreet.
Tony Grant - In Tyler Perry's Why Did I get Married.
Dr. Frederick D. Haynes, III. - Senior Pastor of the Friendship-West Baptist Church in Dallas.
Gallery