Rent or Buy Now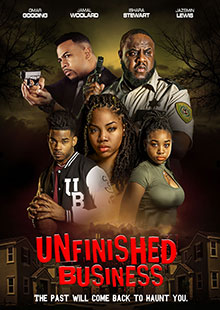 Unfinished Business
Own It April 04, 2023
Genre: Horror, Thriller
Runtime: 72 Minutes
UPC: 824355589528, 01:12:05
Storyline
Local sheriff, Keith James, finds himself on a desperate hunt for vengeance after the loss of his brother. While solving the case, the truth about his past is revealed, making him and his daughter targets.
Produced By
Jonathan Milton
Cast
Ishara Stewart, Jamal Woolard, Omar Gooding, Jazsmin Lewis
About the Crew
Jonathan Milton is a director and producer known for The Foreign Exchange Student (2018), The Perfect Wife (2019), Behind Closed Doors (2020) and 3 Way (2021).
Jamal Woolard is an actor known for Notorious (2009), Barbershop: The Next Cut (2016), All Eyez on Me (2017), and Christmas on my Block (2021).
Omar Gooding is an actor known for Baby Boy (2001), Before 'I Do' (2016), The 5th Ward (2020), and Family Time (2012-2020).
Jazsmin Lewis is an actress known for How to be a Player (1997), Barbershop (2002), Deliver Us From Eva (2003), Three Can Play That Game (20017), and Barbershop: The Next Cut (2016).