Rent or Buy Now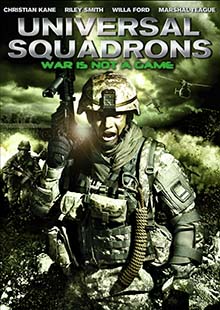 Universal Squadrons
Own It June 07, 2011
Genre: Action
Runtime: 84 Minutes
UPC: MAV-5374, 824355537420
Storyline
Back from the Iraq, Captain Lance Deakin is haunted by flash-backs of a hyper violent video game he played while on tour. Exhibiting strange powers, he is pulled deeper into the vortex of this memory, slowly realizing that the military turned him into a brainwashed super-soldier. While he tries to piece together what happened to him, he is being hunted down by armed forces, whose mission is to destroy him and any top secret information he may be harboring. Lance is now in a race to elude his assassins and recover the truth.
Directed By
Mark Millhone
Cast
Riley Smith, Willa Ford, Christian Kane, Barry Corbin, Marshall Teague
About the Crew
Premiered at the Comic-Con International Film Festival as MINUTEMAN.
Written and directed by Oscar winning director Mark Millhone.
Riley Smith - Gallowwalker, New York Minute, Radio, '24'.
Willa Ford - Friday the 13th, 'Angel'.
Barry Corbin - No Country for Old Men, 'The Closer', 'One Tree Hill'.
Christian Kane - 'Leverage'.
David Born - 'Friday Night Lights'.
Mark Nutter - 'Friday Night Lights'.
Marshall Teague - 'Walker, Texas Ranger', 'Babylon 5'.