Rent or Buy Now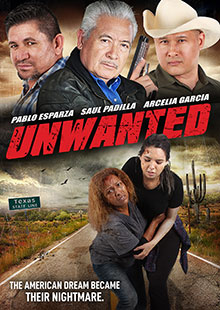 Unwanted
Own It July 03, 2018
Genre: Drama, Action
Runtime: 90 Minutes
UPC: MAV-5553, 824355555325
Storyline
Enrique Guzman is a Coyote. The last twenty years he has smuggled immigrants from Mexico into the United States illegally crossing the Rio Bravo and walking one hundred miles in Texas territory. Enrique is fearless and willing to kill to protect his group. Some of them do not make it alive because they get killed or die of dehydration on the road. Once they make it to the city, they must deal with a culture shock and discrimination sometimes from their own race.They become UNWANTED.
Produced By
Pablo Esparza and Armando Suarez
Directed By
Armando Suarez
Cast
Pablo Esparza, Saul Padilla, Arcelia Garcia
About the Crew
Unwanted tells a relevant story about five illegal immigrants who cross the Rio Bravo into Texas in search of the American dream, but instead they encounter a nightmare.
Pablo Esparza is an actor and producer, known for Machete (2006), Machete Kills (2013), Strait & Narrow (2016), and Queen of the South (2016).
Rick Lee is an actor known for El Mano Negra (2014), The Price of Fame (2018), and The Last Champion (2018).
Gallery