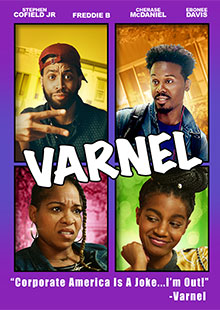 Varnel
Own It August 25, 2020
Genre: Comedy
Runtime: 13 Minutes
UPC: MAV-5679, 824355567922
Storyline
Varnel explores the black male experience from the perspective of Varnel Hill who is an aspiring actor working in corporate America trying to get out to pursue his dream as an actor. Varnel is in his early 30s and works as a mail clerk at a marketing firm. Varnel spends most of his days daydreaming about quitting his job, trying to get his ex-Sydney back (and dating), and hanging out with his best friends Tommy and Bilal.
Directed By
Samuel Hicks & Jason Gray
Cast
Stephen Cofield Jr. and Freddie B
About the Crew
Samuel Hicks is a producer known for Outgrown (2019) and Varnel (2020).
Stephen Cofield Jr. is the consummate entertainer. With an academic background, innate sense of humor, and a passion for the business, he brings a variety of skills to the table. He is known for Catch-30 (2013-2019), Younger (2019), and Nevertheless (2019).
Ebonee Davis is an actress, known for Pyer Moss: Spring/Summer 2019 at NYFW (2018) and Sports Illustrated Swimsuit 2016 Revealed (2016).