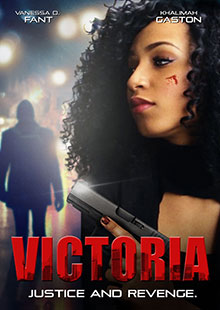 Victoria
Own It May 18, 2021
Genre: Thriller, Drama
Runtime: 119 Minutes
UPC: MAV-5727, 824355572728
Storyline
Victoria moves from out of town into the poor inner city of New York with her father, the neighborhood drug dealer. She goes on a journey seeking answers, justice, and revenge after her father was murdered by local competition. In the process of her revenge, Victoria realizes that she doesn't want to live the lifestyle that she is living before it becomes too late.
Produced By
Mark K. Buddington
Directed By
Mark K. Buddington
Cast
Vanessa D. Fant, Khalimah Gaston, Jason Barkley
About the Crew
Mark K. Buddington is an actor, director, and producer known for Straight Stuntiní Chronicles (2016), Preto the Movie (2016), King of the Castle (2019), and Behind the Life of a Director (2019).
Vanessa D. Fant is an actress and director, known for New York Underground Kingz (2016), Rhonda Mitchell M.D. (2017-2019), and Unfriended (2020).
Jason Barkley is an actor known for Endless Summer (2013), Uncle Edís Bucket List (2018), and Against All Odds (2019).
Khalimah Gaston is an actress known for The Shattered Mind (2014), Deadly Dispatch (2019), Ruthless (2020-2021), and Connect (2021).