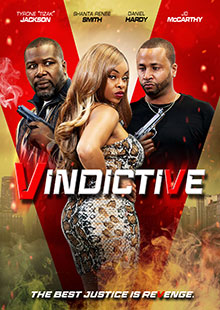 Vindictive
Own It June 13, 2023
Genre: Drama, Thriller
Runtime: 120 Minutes
UPC: MAV-6008, 824355600827
Storyline
Neeka will do anything to have what her best friend Dana has, even if it means manipulating Dana's abusive husband, Tek, to join in on a deadly plot. Not everything go as planned, causing Dana to do the unthinkable, turning Tek's life upside down, and causing Neeka to make other VINDICTIVE plans.
Produced By
Tyrone Tizak Jackson
Directed By
Tyrone Tizak Jackson
Cast
Tyrone Tizak Jackson, Shanta Renee Smith, Daniel Hardy, JD McCarthy
About the Crew
Tyrone Jackson is an actor and director known for Turned Out (2019), Infidelity (2021), and No Such Thing as Loyalty (2022).
Shanta Renee Smith is an actress known for Lil Ceasar (2020), Secrets of a Side Chick (2022), The Walk of Rufus (2022), and Diary of a Unicorn (2023).
Daniel Hardy is an actor known for Empire (2015), City of Vultures 2 (2022), Lady (2022), and Scam City (2022).