Rent or Buy Now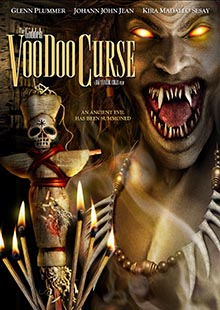 Voodoo Curse: The Giddeh
Own It August 15, 2006
Genre: Horror
Runtime: 80 Minutes
UPC: MAV-5184, 824355518429
Storyline
A classmate, trying to get some play, uses an ancient voodoo book, stolen from his professor's office, to impress one of the girls. He accidentally conjures up an evil African voodoo spirit, who begins savagely dismembering the students one by one after they look into his deadly glowing eyes. After discovering the theft of voodoo book, their college professor frantically races up to the cabin to remove the curse and stop the bloody rampage of the Giddeh. The non-stop suspense and gory terror will have you shutting you own eyes. Starring Glenn Plummer (Saw II, The Day After Tomorrow).
Directed By
Glenn Plummer
Cast
Glenn Plummer, Johann John Jean, Kira Madallo Sesay
About the Crew
• Hot voodoo horror for your summertime blues Starring Veteran actor and superstar, Glenn Plummer (Saw 2)
Gallery
Gallery Images are Coming Soon.