Rent or Buy Now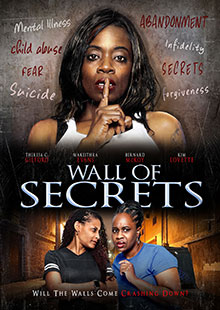 Wall of Secrets
Own It April 12, 2022
Genre: Drama
Runtime: 78 Minutes
UPC: MAV-5792, 824355579222
Storyline
Thrown away at birth, Monica moves in to the Safe-Haven Home, where her stay soon becomes a nightmare.
Produced By
Earline D. Gilford, Theresa C. Gilford, Bobby Peoples, Renee Warren-Peoples, Bernard McKoy
Directed By
Theresa C. Gilford
Cast
Theresa C. Gilford, Makeithra Evans, Bernard McKoy, Kim Lovette
About the Crew
Earlina D. Gilford is an Inspirational Speaker, Radio Host, Author, Screenplay & Stage Writer, Producer, known for the stage Plays ""Who will Wipe my Tears Away? ""Is It Really My Closet?"" Busted & Disgusted, Trapped Was It Really God, and a Youth Stage Play Listen to your Calling, and the mini series 2Real4U.
Theresa Gilford is an actress and producer, known for Angry Tears My Story (2013), Busted & Disgusted (2013) and Trapped: Was It Really God? (2014).
Bernard McKoy is an actor known for Flags on the Field (2017), Fixation 2: Uprising (2019), and 2Real4U Devil in my Mirror (2019).