Rent or Buy Now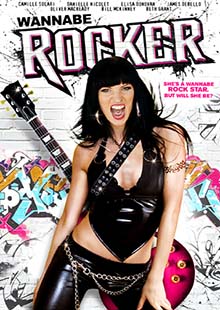 Wannabe Rocker
Own It January 13, 2009
Genre: Comedy
Runtime: 87 Minutes
UPC: MAV-5305, 824355530520
Storyline
In a world of pop-stars Phaedra is struggling to make it as a rocker. Plagued with bad luck and disown by her parents she has all but given up on her dream. Phaedra's friends, however, are determined to show the industry what it is missing. Their outlandish plan to attract record producers by throwing a pretend party for Cher just might work. Who said there's anything wrong with a little creative lying; it might be your only to the top?
Directed By
Lauren Patrice Nadler
Cast
Camille Solari, Danielle Nicolet, Elisa Donovan, Beth Grant, James Debello
About the Crew
Featuring documentary interviews of famous rock stars talking about how they made it, and the barriers they faced on the way up; including Janie Lane from Warrant, Tommy Rae Brown of the James Brown Band, and others.
Danielle Nicolet-Starred as Caryn on '3rd Rock from the Sun'. Starred in 'Second Time Around', 'The Starter Wife', 'Heartland'.
Elisa Donovan-Morgan Cavanaugh in 'Sabrina, the Teenage Witch'. Starred in Clueless alongside Alicia Silverstone
James DeBello-Kush, Scary Movie 2, Cabin Fever
Beth Grant-Stars with Sandra Bullock in the new film All About Steve. Starred alongside Dennis Quaid in The Rookie. Star of the new TV series 'Sordid Lives: The Series'. Has also starred in 'Jericho', Factory Girl
Nick Steele- Disaster Movie, Meet the Spartans, Date Movie
Bill McKinney-Stars with Minnie Driver in Take. Starred in Rambo alongside Sylvester Stallone
Richmond Arquette-Brother of David Arquette,starred alongside Patrick Dempsey in Made of Honor
Shay Astar- Nominated for a Young Artist Award for her role as August in '3rd Rock from the Sun'
Gallery
Gallery Images are Coming Soon.