Rent or Buy Now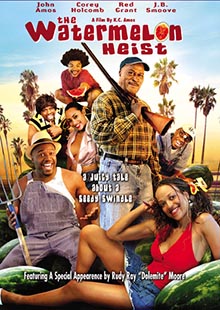 Watermelon Heist, The
Own It December 07, 2004
Genre: Comedy
Runtime: 89 Minutes
UPC: ,
Storyline
Ol' Man Amos doesn't get along with his neighbors, the Brown Family, "thieving, welfare collection vagrants" is what he generally calls them, and he wants them to move off their land.

Despite the dispute, the Browns won't leave their land that easily. But stolen mail and unpaid bills are making matters worse! To make money fast the Browns come up with a plan to win a contest for "Watermelon Juice Afro Sheen," awarding $10,000 to whoever can find the juiciest, sweetest watermelon in the country.

And wouldn't you know it, who has the biggest watermelons? This hilarious adventure follows the seedy swindle and will keep you laughing out loud.
Cast
John Amos, Corey Holcomb, Cameos by Rudy Ray Moore and Max Perlich
About the Crew
Producer JOHN AMOS has a recurring role as Percy Fitzwallace on the Emmy award winning West Wing. He recently starred in All About the Andersons, as well as The District as Mayor Ethan Baker. Among his most notable works is Roots, Coming to America and as James Evans in the long running series GOOD TIMES.
COREY HOLCOMB was recently featured on the Season II of the Last Comic Standing and also appeared on such shows as NBC's Late Friday and and BET's Comic View.
K.C. AMOS was a winner at the 1997 Sundance Film festival for "Syphon Gun" a short film that inspired the creation of the WATERMELON HEIST.
Gallery
Gallery Images are Coming Soon.