Rent or Buy Now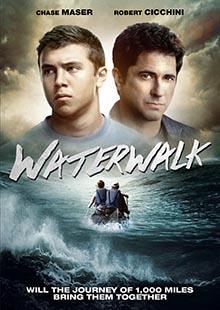 Waterwalk
Own It February 04, 2014
Genre: Family
Runtime: 120 Minutes
UPC: MAV-5439, 824355543926
Storyline
After Michigan newspaper editor Steve Faulkner is laid off from his high-powered job, his 17 year old adopted son persuades him to go on a 1,000 mile canoe journey retracing the discovery route of the Mississippi. Braving the elements, father and son nearly run out of money and confront the ultimate challenge: boredom. Waterwalk is a memorable look at a journey that defines their relationship.
Directed By
Robert Cicchini
Cast
Robert Cicchini, Chase Maser, Mary McDonald Kerr, Richard Riehle, Deborah Staples, James Sparling, John McGivern
About the Crew
'A heartfelt project'- Chicago Tribune
'Touching and Real'- Tom Long, The Detroit News
Rotten Tomatoes: 100% liked the film with a 4.4 out of 5 score.
Dove Foundation: Family Approved.
Winner 2013 Eclipse Award.
Filmed on location in the Midwest.
Director & Lead Actor, Robert Cicchini, has appeared in over 25 feature films and has extensive TV credits including over 50 guest-starring or recurring performances on television series, such as CSI, DESPERATE HOUSEWIVES, NCIS, 24, WITHOUT A TRACE, COLDCASE, and more.
Gallery