Rent or Buy Now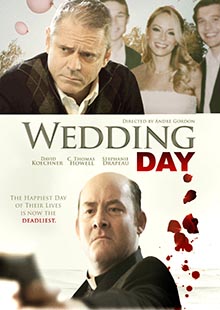 Wedding Day
Own It January 15, 2013
Genre: Thriller
Runtime: 72 Minutes
UPC: MAV-5406, 824355540628
Storyline
Not every love story is a fairytale and some end in disaster.Two young couples plan to make their wedding day one they will never forget. They just never believed a joyous occasion can suddenly turn to one of tragedy.
Directed By
Andre Gordon and Dale Fabrigar
Cast
David Koechner, C. Thomas Howell, Stephanie Drapeau, Andre Gordon, Brandon Molale, Sean Field, Jennifer Keller, James Lyons, Kate Siegel
About the Crew
David Koechner - The Office, Paul, Get Smart, Anchorman: The Legend of Ron Burgandy.
C. Thomas Howell - E.T. The Extra Terrestrial, The Amazing Spiderman.
Stephanie Drapeau - She's a Fox.
Andre Gordon - Guest Appearances on MADTV, Campus Ladies, Scrubs, Old School, and NCIS: Los Angeles.
Brandon Molale - Dodgeball: A True Underdog Story, The Longest Yard, Mr. Deeds.
Gallery