Rent or Buy Now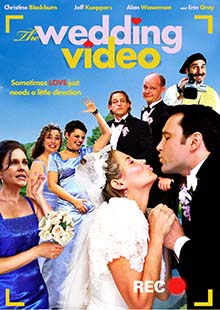 The Wedding Video
Own It April 05, 2011
Genre: Comedy
Runtime: 85 Minutes
UPC: MAV-5371, 824355537123
Storyline
Kristin and Chris are an unconventional couple -- so of course they wanted an unconventional wedding video. Little did they realize what they were in for when they hired Virgil Crumb. Virgil's vision for his film involved digging up dirt on the couple. But when cracks in the relationship began to show, Chris and Kristin frantically call the wedding off. Now, Virgil is furious. How could these actors ruin 'his' film? Chris and Kristin will soon realize they are meant to be together or else!
Cast
Christine Blackburn, Jeff Kueppers, Alan Waserman, Chris Pentzell, Ronna Jones, Erin Gray, Michael Swan
About the Crew
Erin Gray - 'Buck Rogers in the 25th Century', 'Silver Spoons', 'Baywatch'.
Michael Swan - 'As the World Turns', 'The Bold and the Beautiful', 'Guiding Light', 'M*A*S*H', 'The Rockford Files', 'Magnum', 'Murder She Wrote'.
Joan Blair - He's Just Not That Into You, Daddy Day Care, Baadasssss
Alan Waserman - Murder in the West, Look @ Me.
Christine Blackburn - Co-hostess with Chris Leary, of an infomercial for the Sunbeam 'Rocket Grill'.
Jeff Kueppers - best known for being the 'The eHarmony Man', 'Trapped in TV Guide', 'Days of Our Lives', 'The Young and the Restless', Bad Reputation
Josh Adamson - Look @ Me.