Rent or Buy Now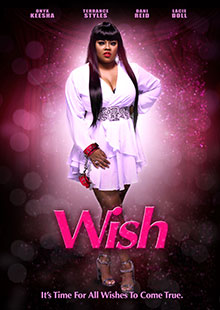 Wish
Own It June 13, 2023
Genre: Drama, LGBT, Romance
Runtime: 66 Minutes
UPC: MAV-5939, 824355593921
Storyline
Wish is a beautiful, confident, woman, who makes no apologies for who she is and what she does. Very sexually free, Wish goes after what she wants. If she feels like making out with a total stranger, she will. If she feels like bringing home the waitress, she will, and she will do it with the ruthlessness of a man, but with the finesse of a woman. Wish is a force to be reckoned with, until one day she meets a woman who turns her world upside down, and nothing will ever be the same.
Produced By
B. Danielle Watkins, Onyx Keesha
Directed By
B. Danielle Watkins
Cast
Onyx Keesha, Dani Reid, Terrance Styles, Lacie Doll
About the Crew
B. Danielle Watkins, author, screen-writer, and film maker, was born and raised in Buffalo, New York. Taking her career to the next level Ms. Watkins became the first and only African American filmmaker to write, produce and star in a REVRY original series, "3030". 2019 proved to be one of her most defining years in her film career. After winning four Telly Awards for the documentary entitled "GRRRL: The Beauty of the Beast" and launching the second season in her original series "3030". She has earned a plethora of accolades and acknowledgements in the film industry, making her an alchemist in the game.
Onyx Keesha is a director, actress and producer known for Between Women (2011-2013), 30 30(2019), and Fatal Attraction (2022).
Lacie Doll is an actress known for Unclassified (2017-2019), Love Isn't a Game (2020), and Bliss (2022).