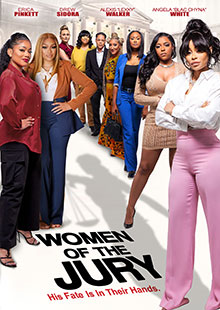 Women of the Jury
Own It October 13, 2023
Genre: Crime, Drama
Runtime: 107 Minutes
UPC: MAV-6102, 824355610222
Storyline
A man is on trial accused of murder of two young black men, and twelve women are called to serve on the jury. After deliberation, one juror is convinced the man is not guilty, while the majority claims he is guilty. A conversation takes place consisting of arguments, alliances, and near violence. What will the verdict be?
Produced By
Mark K. Buddington
Directed By
Mark K. Buddington
Cast
Drew Sidora, Angela "Blac Chyna" White, Erica Pinkett, Alexis "Lexxy" Walker
About the Crew
Mark K. Buddington is a director, writer, and producer known for Victoria (2021), Suffocated (2022), Dollhouse (2023) When Girls Ride (2023), and Women of the Jury (2023).
Angela White Aka Blac Chyna is a model, television personality, and actress who originally rose to prominence in 2010 as the stunt double for Nicki Minaj in the music video for the song "Monster by Kanye West. Since 2016, she has appeared in a number of reality television shows, including E!'s Keeping Up with the Kardashians, and her own reality show with then-boyfriend Rob Kardashian, Rob & Chyna, also on the E! network. In 2019, she starred in The Real Blac Chyna on Zeus Network. She has also appeared in Tokyo Toni's Finding Love ASAP!, and VH1's Love & Hip Hop: Hollywood.
Erica Pinkett is an actress known for Love and Hip Hop Atlanta (2013-2014), All Eyez on Me (2017), Secret Society (2021) Secret Society 2: Never Enough (2022), and BMF (2023).
Lexxy Walker is an actress and writer known for Love & Hip Hop, Suffocated (2022), When it Rains (2023), and Suffocated: Room 2 Breathe (2023).