Rent or Buy Now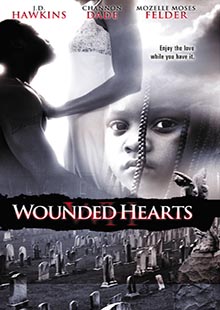 Wounded Hearts
Own It January 06, 2004
Genre: Drama
Runtime: 93 Minutes
UPC: MAV-5050, 824355505023
Storyline
A contemporary love story set in Houston about jay, a recovering alcolholic, part-time cab driver and jazz musician raising his daughter alone after the sudden death of his wife. Jay who is emotionally crippled and distant to the point he shuts out his mother and brother, begins to love again when Lisa, an advertising executive enters his cab one day. Lisa, is a career driven professional that recently broke up with her egotisitical boyfriend, Alex. Jay and Lisa struggle to hold on to a relationship as a career and the past conspire to rip them apart. However, their greatest threat may be Taylor, his daughter.
Cast
Starring J.D. Hawkins, Channon Dade, Tenia Yarbrough
About the Crew
Urban romantic love story, telling the true side of family and love.