Rent or Buy Now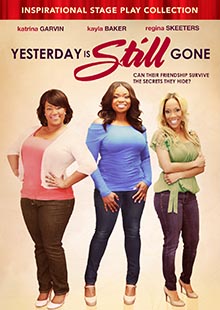 Yesterday is Still Gone
Own It February 25, 2014
Genre: Inspirational, Drama
Runtime: 122 Minutes
UPC: MAV-5424, 824355542424
Storyline
Over the years, three friends have worked hard to conceal past secrets, hatred, and deceit. Using their families and friends to distract them from the pain will only last so long. They will soon come face to face with their past, while trying to convince everyone, including themselves, that 'Yesterday Is Still Gone'.
Directed By
Tangie Beaty and Donna Johnson
Cast
Regina Skeeters, Kayla Baker, Katrina Garvin, Rod Lorick, Corey Brown and Deon Generette
About the Crew
Tangie Beaty & Donna Johnson won Best Directors at the 2013 Kingdomwood Christian Film Festival.
Nominated for Best Stage Play, 2013 at the Kingdomwood Christian Film Festival.
Actress, Regina Skeeters is also a gospel recording artist with a new CD release coming in 2014.
Writer, Director, Producer, Tangie Beaty also serves on the Executive Management Staff of Urban Playwrights United (UPU).
Gallery