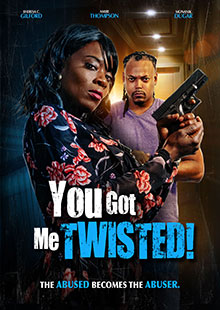 You Got Me Twisted!
Own It July 11, 2023
Genre: Drama
Runtime: 111 Minutes
UPC: MAV-5996, 824355599626
Storyline
Based on a true story that centers around the life of a young woman that suffers with Stockholm Syndrome. Mahogany struggles from the desperate cry from within to break free, but will it drive her to a point of no return.
Produced By
Earline D. Gilford-Shine, Marquand Ragland, Theresa C. Gilford
Directed By
Marquand Ragland
Cast
Theresa C. Gilford, Monanik Dugar, Amiri Thompson
About the Crew
Earlina D. Gilford is an Inspirational Speaker, Radio Host, Author, Screenplay & Stage Writer, Producer, known for the stage Plays Who will Wipe my Tears Away? Is It Really My Closet? Busted & Disgusted, Trapped Was It Really God, and a Youth Stage Play Listen to your Calling, as well as the feature films Wall of Secrets, Wall of Secrets 2: Scorned Haven, and Rainey Storms.
Amiri Thompson is an actor, writer, and director known for Drowning (2016), Crossover (2020), and The Christmas Spirit (2022).
Theresa Gilford is an actress and producer, known for Angry Tears My Story (2013), Busted & Disgusted (2013) and Trapped: Was It Really God? (2014).