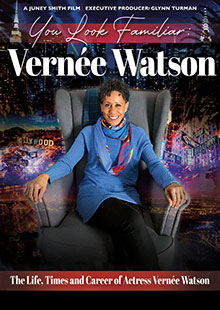 You Look Familiar: Vernee Watson
Own It September 07, 2021
Genre: Documentary
Runtime: 92 Minutes
UPC: MAV-5775, 824355577525
Storyline
Actress Vernee Watson has broken ground and paved the way for black actresses on television today: with a career spanning over 4 decades, 3 Emmy awards, and costars such as Will Smith and Denzel Washington. Learn her life story onscreen and off.
About the Crew
Vernee Watson is an actress and director, best-known for Carter Country (1977) , Baby Talk (1991), The Fresh Prince of Bel-Air (1990-1995), Antwone Fisher (2002), Days of our Lives (2007), and General Hospital (2013-2020).
Juney Smith is an actor, director, and producer who Co-Starred opposite Robin Williams and Forest Whitaker as Sgt.Phil McPherson in the comedy classic "Good Morning Vietnam" Mel Gibson and Danny Glover as Detective Tom Wyler in the action classic "Lethal Weapon 2", as "Chief" in "Friends and Romans" and as "Anthony" in "Colewell" opposite Karen Allen.