Rent or Buy Now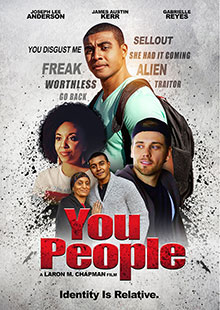 You People
Own It August 18, 2020
Genre: Comedy, Drama
Runtime: 94 Minutes
UPC: MAV-5648, 824355564822
Storyline
You People is a satirical comedy about modern stereotypes, chronicling the life of an intelligent, white-washed, African American college student, adopted by a liberal Caucasian family, who has a crisis of identity while growing up in the Bible belt, white suburbia with his urban hip-hop culture obsessed, white best friend. When an attractive girl on campus approaches the black protagonist based on his 'presumed' stereotypical traits, he has to undergo a 'cultural transformation' with the help of his white companion to tap into his inner 'blackness.'
Produced By
Wendy Parker, Sha'ree Green, Eric Kuritz, Casey Crowdis
Directed By
Laron M. Chapman
Cast
Joseph Lee Anderson, Gabrielle Reyes, James Austin Kerr
About the Crew
Laron M. Chapman is a director and writer who became actively involved in local film/television productions including: August: Osage County, Rudderless, Splinter, worked on American Idol, Say Yes to the Dress, The Pioneer Woman, and on programs for The History and Discovery Channel. Having worked for many industry professionals and a wide-range of prestigious networks and studios, he has embarked on a driven path to success in Hollywood's competitive entertainment industry.
Joseph Lee Anderson is an actor known for The D Train (2015), The Ballad of Lefty Brown (2017), American Soul (2019), and Harriet (2019).
James Austin Kerr is an actor and writer, known for Culpability (2015), Queen of the South (2019), and Awake (2019).
Gallery