Rent or Buy Now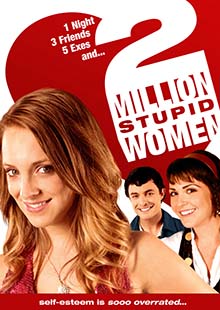 2 Million Stupid Women
Own It November 16, 2010
Genre: Comedy
Runtime: 102 Minutes
UPC: MEG-0100, 850227002017
Storyline
Melissa is determined to make this Birthday one to remember, and it will be, just not for the reasons she was hoping. Faced with the realization that her new boyfriend is just not that into her and would rather hang out with another girl, Melissa sets out to rid herself of her bad hook-up karma once and for all. With her two best friends in tow Melissa goes searching for her last five flames, but will she get to each of them before she blows out the candles on her cake or will she be stuck with bad karma for another year?
Cast
Sarah Lindsay Hall, Katy Stoll, Mark R. Gerson
About the Crew
Featuring appearances by Joshua Morrow (The Young and the Restless) and 2007 Playmate of the Year Sara Underwood.
Katy Stoll - 'Prom Queen', '10 Dates from Hell'.
Mark R. Gerson - 'Passions', 'Tease'.
Carolyn Cannon - 'Millionaire Matchmaker', stars alongside Tia Carrere and Tom Arnold in the upcoming film Hard Breakers.
Karen Jin Beck - 'General Hospital', has made a name for herself as a DJ appearing on Damon Wayans 'The Underground', Disney Channel's 'Totally Suite New Years Eve' and the 'MTV Video Music Awards 2008'.