Rent or Buy Now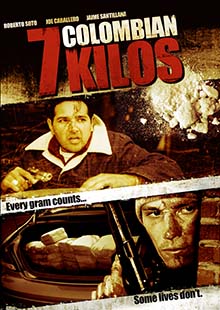 7 Colombian Kilos
Own It October 16, 2007
Genre: Action
Runtime: 132 Minutes
UPC: MAV-5247, 824355524727
Storyline
The brutal story of betrayal between Lino and Weecho, two partners in the violent business of supplying drugs to Chicago's Westside. Greed and mistrust tear apart their childhood-long friendship, when Weecho reaches success and collects fast cash as the 'Chicago Connection' after a Miami-based drug kingpin takes him under his wing. Feeling left out, Lino plots with his boy, Jimmy, to commit a horrible act of betrayal, and take over Weecho's business.
Directed By
Zeke Gonzalez
Cast
Roberto Soto, Joe Caballero, Jaime Santillana
About the Crew
Gritty Artwork that Sells
Great Action title in the spirit of TRAFFIC.
Gallery
Gallery Images are Coming Soon.