Rent or Buy Now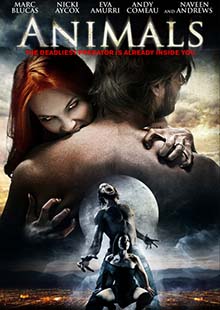 Animals
Own It June 15, 2010
Genre: Horror
Runtime: 93 Minutes
UPC: MAV-5343, 824355534320
Storyline
Jarrett has spent years wasting away in a washed-up hick town, but after meeting Nora his life will never be the same. Easily seduced by her charms, Jarrett is pulled into her dark world and an unforgettable night of passion. But in the light of day Jarrett begins to realize that his reckless night with Nora has filled him with a growing animal instinct to fight. This is only the beginning to Jarrett's journey into the unknown world of the ANIMALS lurking amidst us all.
Directed By
Arnold Cassius
Cast
Marc Blucas, Naveen Andrews, Nicki Aycox, Eva Amurri
About the Crew
Marc Blucas-Named #6 of the Top Ten Sexiest Men of 'Buffy the Vampire Slayer'. Starred in Summer Catch, 'Buffy the Vampire Slayer', The Killing Floor, and Deadline.
Naveen Andrews- Nominated for a Chlotrudis Award for his role in The English Patient. Nominated for an Emmy Award for his role in 'Lost'. Nominated for a Golden Globe for his role in 'Lost'. Won a Screen Actors Guild Award along with his cast members from 'Lost'. Starred in 'Lost', The Brave One, and Mighty Joe Young.
Nicki Aycox- 'Dark Blue', Perfect Stranger, 'Cold Case'.
Eva Amurri- Won a Young Artist Award for her role in The Banger Sisters. Starred in 'Californication', Saved!, and The Banger Sisters.
Andy Comeau-'House', 'Huff', 'Providence'.
Bart Johnson - Coach Jack Bolton in High School Musical 1, 2, and 3, Daddy Day Camp, 'Hyperion Bay'.
Ron Rogge - Obsessed, 'Fashion House', 'Power Rangers Lightspeed Rescue', Final Voyage.
Gallery
Gallery Images are Coming Soon.