Rent or Buy Now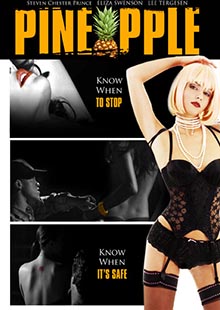 Pineapple
Own It March 25, 2008
Genre: Erotic, Thriller
Runtime: 85 Minutes
UPC: MAV-5268, 824355526820
Storyline
After his cheating wife files for divorce and full custody of their daughter Andrew finds himself teetering between a life of drug addiction and sobriety. His only solace is found in the arms of an exotic dancer. As their relationship intensifies she begins to pull him out of sobriety and farther down the dark road of drug addiction and sexual experimentation.
Directed By
Damian Skinner
Cast
Steven Chester Prince, Eliza Swenson, Lee Tergesen, Skye McCole Bartusiak, Thomas Smackola Chapman
About the Crew
Steven Chester Prince 'Prison Break', NBC's 'Friday Night Lights'
Lee Tergesen ABC's 'Desperate Housewives', HBO's 'Oz', and Monster
Skye McCole Bartusiak Don't Say a Word (Michael Douglas' daughter in the film), Riding in Cars with Boys, Fox's '24', Against the Ropes
Turk Pipkin Friday Night Lights (the movie), HBO's 'The Sopranos'
Brady Coleman Friday Night Lights (the movie), October Sky
Gallery
Gallery Images are Coming Soon.