Rent or Buy Now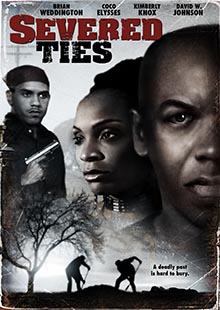 Severed Ties
Own It August 09, 2005
Genre: Thriller
Runtime: 85 Minutes
UPC: MAV-5125, 824355512526
Storyline
Severed Ties' follows the trail of four lives after one of them commits murder to satisfy his sado/masochistic fetish. Brian Charles and his girlfriend Angie's fun evening together is cut short by a disturbing phone call from Victor, Brian's brother. Victor's appetite for control has lead to murder and now Brian must make a decision: Help his brother 'bury' his crime or turn him in. 'Severed Ties' tension filled plot, superb acting and direction will leave you stunned.
Directed By
David W. Johnson
Cast
Brian Weddington, Coco Elysses, David W. Johnson
About the Crew
Urban Thriller with a deadly ending.
High Production Value.
Powerful Acting and Performances make this a Must See.
Gallery
Gallery Images are Coming Soon.