Rent or Buy Now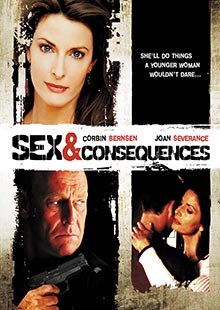 Sex and Consequences
Own It June 19, 2007
Genre: Erotic
Runtime: 84 Minutes
UPC: MAV-5236, 824355523621
Storyline
When Sam Taylor (Rodney Scott) meets Lisa Wayne (Joan Severance), he experiences every 18-year old guy's ultimate fantasy: no-strings-attached sex with a beautiful, uninhibited older woman. However, as the summer between high school and college wears on, Sam learns that when it comes to sex there are always strings attached. Sam unwittingly becomes a pawn in Lisa's twisted emotional game with her uptight police officer husband (Corbin Bernsen). She uses her affair with Sam to taunt her husband, manipulating him into a final confrontation.
Directed By
Michael Valverde
Cast
Joan Severance, Corbin Bernsen, Rodney Scott, Charles Van Eman
About the Crew
Former Supermodel-turned-Actress, Joan Severance, (The Last Seduction II ) as a recurring role in MyNetwork's hit 'Wicked Games'.
Currently a regular cast member of USA's hit series 'Psych', Corbin Bernsen (Kiss Kiss Bang Bang), blazed to TV stardom on 'L.A. Law'.
A realistic sexual fantasy!.
Gallery
Gallery Images are Coming Soon.