Rent or Buy Now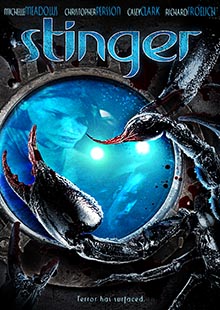 Stinger
Own It April 10, 2007
Genre: Horror
Runtime: 97 Minutes
UPC: MAV-5217, 824355521726
Storyline
The USS Newark has been lost at sea, carrying top-secret cargo from experimental military project. Finally, the submarine is discovered sixty miles off the coast of California. The government gathers a military special ops team, headed by the original project's lead scientist, the beautiful and mysterious Dr. Carly Ryan, to salvage the lost cargo and determine the cause of the sub's disappearance. Once aboard, the team detects signs of a low-level radiation leak from the ship's reactor. A lone sailor, Seaman Thompson, is found alive, but driven insane by his nightmarish experience while trapped on the Newark. His crazed tale of death by monstrous scorpions is soon verified as the recovery team discovers the remainder of the submarine's crew atrociously dismembered. Dr. Ryan determines the scorpions have been mutated by radiation from the ship. As the members of the recovery crew and the rescued sailor fight their way through endless numbers of the scorpions, a strange rash forms on Seaman Thompson's back. The mutation process has begun...
Cast
Michelle Meadows, Richard Froelich, Christopher Perrson
About the Crew
• This FLICK features a Creature with a STING!
Gallery
Gallery Images are Coming Soon.