Rent or Buy Now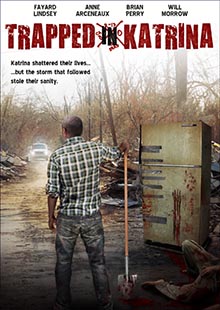 Trapped In Katrina
Own It December 08, 2009
Genre: Thriller
Runtime: 82 Minutes
UPC: MAV-5332, 824355533224
Storyline
Ignoring warnings to stay out of New Orleans Hilton and Amelia go back to their ruined home to sift through what's left after the storm. As darkness falls they hurry to scoop up whatever memories they can and pack up their car, but two flat tires leave them without a way out. Stranded they split up to find help, but one dark night in the deafening quiet of hurricane ravaged New Orleans will change everything.
Directed By
Patrick Marrero
Cast
Fayard Lindsey, Anne Arceneaux, Brian Perry
About the Crew
Brian Perry - Nola.
A look into the devastating effects of Hurricane Katrina and how those effects can change your reality and make you into a killer.